Cage & Bottle Technology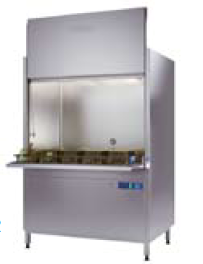 In the field of animal husbandry, hygiene is an important factor in terms of the health and well-being of the animals. Animal cages, racks, and water bottles must be cleaned so that they are both hygienic and free from germs. Cage preparation not only concerns the cleaning and preparation of cages and cage lids; grids, bottles, sterilisation containers and other equipment also has to be cleaned and prepared.
With the hood and front door systems as well as belt cleaning and rack cleaning systems, the HOBART TKR Series represents a suitable solution for all requirements that are developed in accordance with the customer requirements. With innovative and patented technologies from HOBART, the cleaning machines not only guarantee ideal cleaning and drying results; they will also significantly reduce your operating costs.